German structural biologists have identified seven compounds that neutralise SARS-CoV-2 by targeting Mpro, the virus'...
Researchers in Italy have identified a pair of microRNA molecules, miR-146A and miR-, help maintain a population of...
In a new statement, the EU regulatory authority EMA postulates that AstraZeneca's vaccine causes serious deep vein...
Johnson & Johnson subsidiary Janssen Pharmaceutica NV has confirmed to deliver 220 million doses of its COVID-19 vaccine...
SIGN UP FOR OUR FREE NEWSLETTER
BACKGROUND
The regulatory situation regarding the trade of medicinal cannabis currently varies enormously from country to country...
SERVICE
PRODUCT OF THE WEEK
Reagents – Three fast-spreading new variants of SARS-CoV-2 virus have emerged in recent months: the U.K. variant B.1.1.7, the Brazil...
Advertorial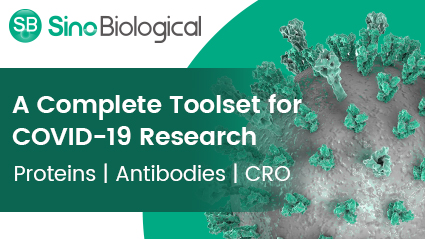 Sino Biological is a world-leading manufacturer of recombinant protein and antibody reagents for life science researches and drug discoveries. In response to the current COVID-19...
THE MAG
Current Issue
Factory farming has a devastating impact on the environment, and meat and milk production are responsible for about 15% of the world's greenhouse gas...
Special
COVID-19 vaccine hoarding and capacity expansion in the market for cell and gene therapy or vaccine vectors currently fill the books of CDMOs. Also,...
EVENT HIGHLIGHT
Which role can industrial biotechnology and bioeconomy play with regard to implementing the EU green deal and the UN SDGs? This will be discussed during this year's EFIB 2021 in...
EVENT RECOMMENDATION
Featuring a unique concept to present all sustainable and renewable material solutions at one event, 18-20 May 2021: bio-based, CO2-based and recycled - at the Renewable Materials...
UPCOMING EVENTS
Nordic Life Science Days 2021
20.04. - 21.04.2021
ǀ +++ online +++
26.04. - 28.04.2021
ǀ +++ online +++
28.04. - 29.04.2021
ǀ +++ online +++
05.05. - 06.05.2021
ǀ +++online +++
SEE ALL